НИЖНЬО-СРЕДНЬОГОЛОЦЕНОВІ КОМПЛЕКСИ ДІАТОМЕЙ ТЕНДРІВСЬКО-КАРКІНІТСЬКОЇ ЧАСТИНИ ШЕЛЬФУ ЧОРНОГО МОРЯ ТА ЇХ СТРАТИГРАФІЧНЕ ЗНАЧЕННЯ
Анотація
 Виявлено своєрідні комплекси діатомових водоростей у результаті дослідження відкладів нижнього-середнього голоцену трьох свердловин тендрівсько-каркінітської частини Чорного моря. Встановлено, що післяльодовикова трансформація умов існування організмів викликала послідовні зміни чисельності та видового складу, а також сприяла появі у вітязівський і каламітський час поблизу о-ва Джарилгач монокомплексів, що на 85-95% складені видами роду Campylodiscus. У структурі комплексів діатомей нижнього-середнього голоцену знайдено представника океанічної літоралі – Terpsinoë americana, характерного для одновікових комплексів Балтійського моря. Цей вид є для відкладів Балтики стратиграфічним маркером атлантичного кліматичного оптимуму.
Посилання
Диатомовый анализ. Кн. 1. Общая и палеоботаническая характеристика диатомовых водорослей / Под ред. А.Н. Криштофовича. – М.; Л., 1949. – 240 с.
Диатомовые водоросли СССР. Ископаемые и современные. Т. 1. – Л.: Наука, 1974. – 404 с.
Михайлеску К.Д. Происхождение лиманов дельты Дуная. – Кишинев: Штиинца, 1990. – 162 с.
Щербаков Ф.А. Материковые окраины в позднем плейстоцене и голоцене. – М.: Наука, 1983. – 214 с.
Grönlund T. Diatoms in surface sediments of the Gotland Basin in the Baltic Sea // Hydrobiologia. – 1993. – Vol. 269/270. – P. 235-242.
Kabailienė M., Vaikutienė G., Damušytė A., Rudnickaitė E. Post-Glacial stratigraphy and palaeoenvironment of the nothern part of the Curonian Spit, Western Lithuania // Quaternary International. – 2009. – Vol. 207. – P. 69-79.
Karayeva N.I., Makarova I.V. Specific features and origin of the Caspian Sea diatom flora // Marine Biology. – 1973.–- Vol. 21. – P. 269-275.
Kozyrenko T.F. Species of the genus Terpsinoë Ehrenberg (Bacillariophyta) from the Miocene of Middle Russia, Moldova, and Ukraine // Advances in phycological studies / N.Ognjanova-Rumenova&K.Manoylov (eds.). – Sofia; Moscow, 2006. – P. 43-54.
Medvedeva L.A., Nikulina T.V., Genkal S.I. Centric diatoms (Coscinodiscophyceae) of fresh and brackish water bodies of the southern part of the Russian Far East // Oceanological and Hydrobiological Studies. – 2009. – Vol. 38, N.2. – P. 139-164.
Moura A.N., Bittencourt-Oliveira M.C., Nascimento E.C. Benthic Bacillariophyta of the Paripe River estuary in Pernambuco state, Brazil // J. Biol. – 2007. – Vol. 67, N 3. – P. 393-401.
Risberg J. Terpsinoë americana (Bailey) Ralfs, a rare species in the Baltic fossil diatom flora // Proceedings of the 9th International Diatom Symposium / F.E. Round (ed.). – Biopress, Bristol and S.Koeltz, Koenigstein, 1986. – P. 207-218.
Saarse L., Heinsalu A., Veski S. Litorina Sea sediments of ancient Vääna Lagoon, northwestern Estonia // Eston. J. Earth Sci. – 2009. – Vol. 58, N 1. – P. 85-93.
Trimonis E., Vaikutienė G., Grigienė A. Sedimentation in the Western Baltic Sea as recorded in the sediment core from the Arcona basin // Geologija. – 2008. – Vol. 50, N 2(62). – P. 105-113.
Vanhoorne R., Denys L. Further paleobotanical data on the Herzeele Formation (Northen France) // Bulletin de l'Association française pour l'étude du Quaternaire. – 1987. – Vol. 1. – P. 7-18.
Witkowski A. An occurrence of living Terpsinoë americana (Bailey) Ralfs in bottom sediments of the Puck Bay (The Southern Baltic Sea), Poland // Diatom Res. – 1991. – Vol. 6(2). – P. 413-415.
Witkowski A., Cedro B., Kierzek A., Baranowski D. Diatoms as a proxy in reconstructing the Holocene environmental changes in the south-western Baltic Sea: the lower Rega River Valley sedimentary record // Hydrobiologia. – 2009. – Vol. 631. – P. 155-172.
Witkowski A., Lange-Bertalot H., Metzeltin D. Diatom flora of marine coasts. I. – A.R.G. Gantner Verlag K.G., 2000. – P. 41.
Zalat A., Servant-Vildary S. Distribution of diatom assemblages and their relationship to environmental variables in the surface sediments of three northern Egyptian lakes // J. Paleolimnology. – 2005. – Vol. 34. – P. 159-174.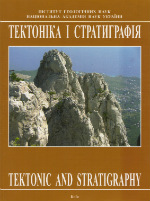 ##submission.downloads##